Edson Bike Skills Park - Background & Construction
Edson Bike Skills Park - Project Summary
A bike skills park contains a variety of natural and man-made features such as jumps, rocks, logs, pumps tracks, ladder bridges, teeter totters, and flow trails. Like a skateboard park is designed for skateboards, a bike skills park is designed for bikes. The Edson Bike Skills Park will provide people of all ages a place to gather and share in physical activity. It will also provide a safe place for people to learn, practice and hone their cycling skills. We believe that our community needs more opportunities for people to engage in physical activity. The park will be used by cyclists of all ages and abilities. We hope that children will grow up with a lifelong love of cycling and physical activity and youth will be able to spend their time in a positive way. The bike park is progressive in nature with elements that are safe and accessible for toddlers on run bikes and will progress to provide challenges for all. It will contain large dirt jump areas, two pump tracks, skills areas, and a flow trail. There will be signage on all elements stating the difficulty. The park will be free to use and open during park hours. This will be a world class facility and will create a vacation destination for families.
The Edson Cycling Association has been raising funds since 2015 to construct a bike skills park. On May 1, 2018 the Town of Edson approved $350,000 in funding at their council meeting for the Edson Bike Skills Park at Willmore Park. We very much appreciate the town's understanding of the importance of this project. The town funding comes from the 2017 Surplus which means there will be no increases to taxes to fund the bike skills park project. This money was used in conjunction with the money already raised by the Edson Cycling Association to fully fund the building of the bike park. Original projected cost of the bike skills park was $624,000. With the combination of donated material and completed construction preparation, the current projected cost is $508,000.
We have chosen the Hoots Ltd. crew to design and construct the bike park. Jay Hoots and company are responsible for over 50 bike park builds including Hinton, Devon, and Fox Creek. There is no other builder in Canada with this much experience and expertise. While sharing similar basic elements, the design and build of the Edson Bike Skills Park will differentiate itself from others and create its own unique identity. This has been achieved through Hoots' painstaking design process and the parks uniqueness.
Willmore Park is the perfect place for the bike skills park. The topography of the park provides the large elevation changes required for many bike park features. This is a very large bike park, at 8 acres, and Willmore easily provided us with the required space. Having a campground and 20km (and growing) of trails connected to the bike park are huge benefits. These were all critical aspects when deciding upon the location. The bike park will not impede access to any existing trails. As part of our mandate, we will continue to improve existing trails throughout the park and grow our trail network in the future.
2016 - Design and Consultation
Construction of the Edson Bike Skills Park will start Spring 2018, however there has been significant construction preparation completed prior to 2018. In 2015 and 2016 the consultation and design of the skills park took place. Jay Hoots took into account Willmore Park's topography, other bike skills parks in this Alberta region, and the communities feedback to create a unique, functional, and fun design. In February 2016, the Edson Cycling Association and Jay Hoots held an open house to the Edson community and presented the park concept design to get feedback from the community. The design was well received with a few suggestions that are now incorporated into the park plans.
Clay Material Acquisition and Staging
Willmore Park's soil base consists mainy of sand. In order to build the features requred for a bike park, highly compactible clay is requred. As this is a large scope project, thousands of cubic yards of clay are requred. The street construction on 5th ave gave us unexpected access to good quality clay (110% compaction rating). With the cooperation of the town, road construction company, and trucking companies, we were able to aquire 441 loads (4310 cubic yards) of clay. This clay was free of charge and we paid a discounted rate for trucking and rig mats. The Town of Edson was able to strip the Willmore staging area of organics, removed large piles of logs, piled some clay with a loader, and paid for heavy trail armouring and repair so the trucks could get access. We are greatful for that support. This clay acquisition and staging was vital to moving forward with the project.
2017 - Mulching and Start Hill Excavation
In 2017, a few generous local companies came in to do some in-kind sponsorship construction prep. The corridor for the 400 meter long flow trail was mulched. As well, the north hill was excavated and shaped to accommodate the start hill/drop zone area. This was a massive undertaking and gives our society great savings as well as an excellent head start for 2018 construction. Byers Enterprises performed the mulching and Strike Energy did the start hill excavation.
2018 - Edson Bike Skills Park Construction
The summer of 2018 was very exciting and busy! From June to September, there was an amazing amount of progress with the construction of the Edson Bike Skills Park. In June, extensive mulching, organics stripping, and material staging were performed by Byers Enterprises , JayCee Enterprises, and Dirt Works. Sunshine Building products came out and helped pre-build some of the wood features. July saw the Hoots Inc. crew come in and start primary construction. It was a very challenging month, the crew put in large drainage segments, culverts, and weeping tile, all while having an above average rainfall. August brought drier weather and with it great gains in areas being built. Husky Energy came out for a work bee day. The Hoots crew wrapped up the first week of September. A very big thank to the volunteers that came out to help with this project. The crew really appreciated the extra hand.
We were very lucky to have Hoots for 2 full months, as we originally were only going to have them for 4-5 weeks. Hoots Inc. have done an amazing job transforming this area into a beautiful and exciting bike park.
SHOTS FROM 2018 Construction.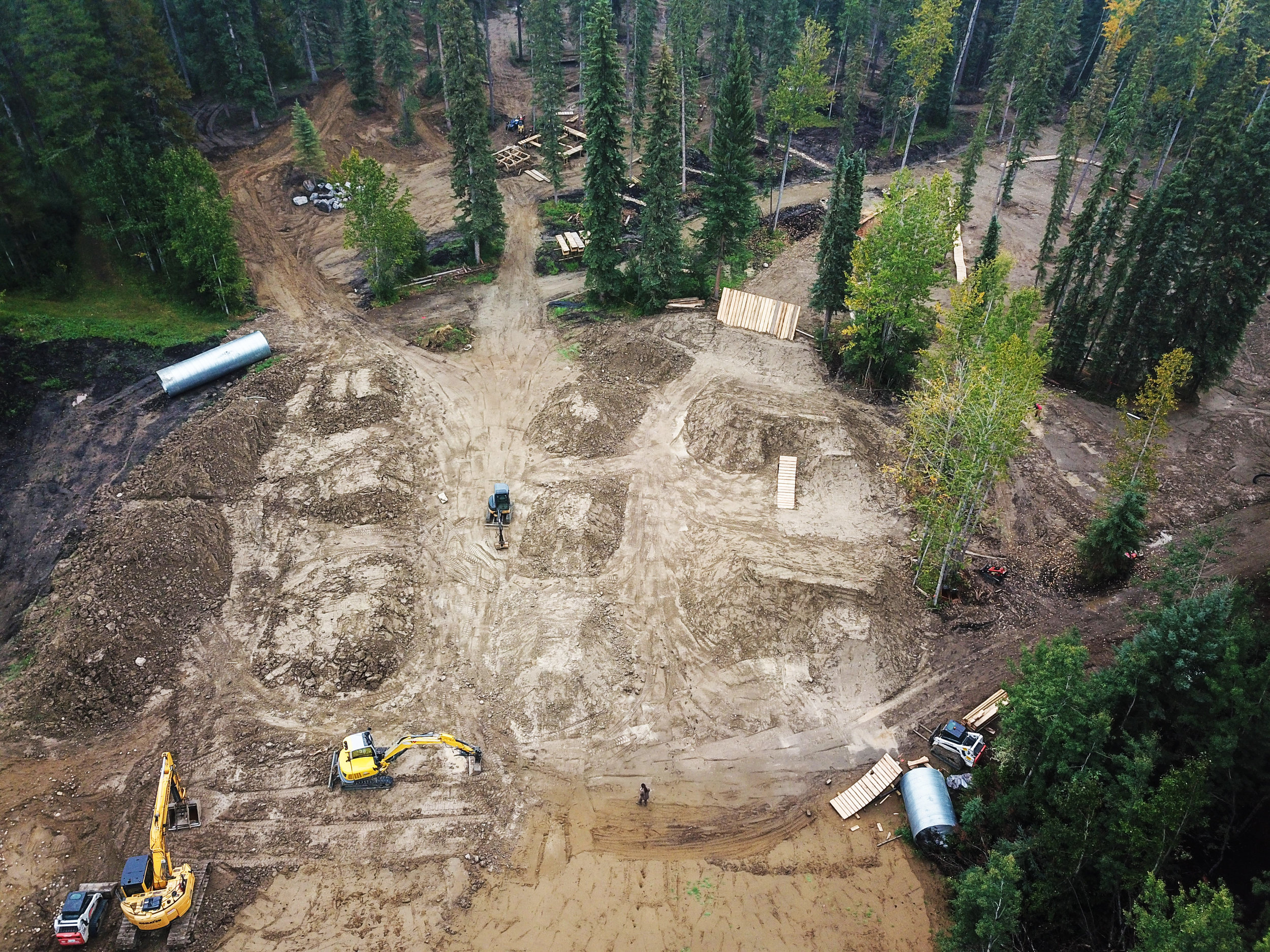 SHOTS FROM EARLY SEPTEMBER 2018 AT SEASON WRAP UP.
2019 - Edson Bike Skills Park Construction
Hoots Inc. returned to Edson in June 2019 to continue working on construction of the Edson Bike Skills Park. The crew of 7 was booked for 4 weeks, but graciously moved on to a different project 2 weeks in due to above average precipitation. The 30% above average precipitation we've had this year has pushed the full grand opening of the bike park.
Edson Bike Skills Park soft opening
With the combination of Hoots 2 weeks of work in June and a late summer push from volunteers, local businesses, and town staff we had a soft opening of the Edson Bike Skills Park on September 8th. The weather was soggy, but it was great to finally take town the closed perimeter ribbon and signage. The Mountainside Skills Zone, JayCee Flow Zone, Rotary Pump Tracks, and North Shore Skills Zone were opened up. The access trail through the park for trail connections was opened as well.